Ariadna CI-DE
Description
Identification of De-energised cable
The cable identifier Ariadna CI-DE device allows to identify any type of de-energised cable, in a RELIABLE, SIMPLE and SAFE way.
Specially designed for maintenance tasks involving the handling of electrical cables, it is an effective tool that allows operators to easily and without error identify de-energised cables from other conductors in trenches, manholes, panels…
It doesn't require calibration before using it, factory calibrated.
Main Features
De-energised cable identifier
Single-phase and three-phase cables
Signal injection by Direct connection or Induction clamp
Cable length > 50 km (direct connection)
Induction signal amplitude and polarity detection
Identification sound alert
Operation time > 24 h (level 2)
Rechargeable battery on the transmitter (CI-DE Tx)
VIDEOS
ARIADNA CI-DE, de-energized cable identification
Downloads
Find more information about this and other solutions in our download area.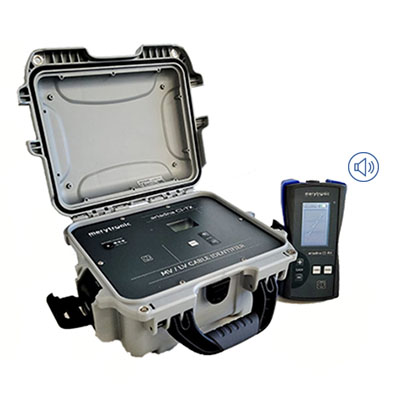 Contact us
If you need more information about any of our products, please fill out the next form: